The only MRM native on Salesforce can save you buckets of money
Proof MRM on Salesforce™

Aprimo

Allocadia

Adobe
Affordability

$129 per seat per month, flat price

$3,360 per seat, annual only

$2,940 per seat, annual only

$2,625 per seat, annual only
Contract flexibility

Monthly

Annual only

Annual only

Annual only
Time to implement

60 days*

9-14 months*

7-10 months*

8-12 months*
Available in Salesforce AppExchange
Automated data synch with all Salesforce clouds
Modernized data management
Modernized campaign planning and budgeting
Workflow design and delivery
Automated Marketing Mix Modeling analytics
Significant customer validation
Streamlined purchase and contracting
* Based on industry analyst and customer feedback
** Coming later in 2023
Case study
"We have found that Proof MRM is the best alternative among the top MRM software. It's easy to learn and use. It's very affordable. It's very fast to implement and get value from. The pricing is clear, and the contracting process is very straightforward."
MARINA KRIEGER,
Digital Enablement Manager,
IWB Marketing
What IWB Needed
IWB is a significant Swiss leader in energy solutions, telecom, and data. As it matured its marketing department, the company realized that it had no systems-based marketing governance in place. Marketing relied on manual planning processes based on Excel that were slow and prone to errors.
Recognizing that the company needed to modernize with best-in-class technology, IWB Marketing developed an automation strategy based on Salesforce cloud services. The subsequent migration to the Salesforce cloud immediately exposed a large gulf between current operational processes and what would be required to maximize marketing automation and other key processes. How could they improve IWB's leverage of Salesforce CRM & Marketing Cloud?
How IWB Discovered
Proof MRM
Marina Krieger, a marketing leader at IWB, heard about Proof Marketing Resource Manager from consulting colleagues and initiated a review of the solution. IWB rapidly concluded that Proof MRM had a number of major advantages over any other MRM tool
Proof MRM delivers modern, streamlined, full-power functionality that uses customizable workflows to optimize all of the important MRM functionality planning, budgeting, financial reporting, legal and compliance, digital asset management, data management, and personnel and teams.
Proof MRM is integrated with Proof's award-winning automated Marketing Mix Modeling capability called Proof MMM, delivering the first full-lifecycle marketing performance optimization capability.
Proof MRM is the only enterprise MRM software running natively on Salesforce, needed no additional integration.
Proof MRM had a track record of rapid implementation and time-to-value, usually less than 60 days. The major legacy MRM tools often took 9 14 months to implement.
Taken together with the cost of implementation, IWB was quickly convinced that Proof MRM was the clear choice. The company immediately begin migrating from planning and budgeting in Excel.
Why Proof MRM has
been such a success
for IWB
The cost of implementing most major legacy MRM platforms frequently cost $1 - 2M in licensing and consulting fees. It is not uncommon for implementations to take more than a year and often end with budget overruns and unsatisfied requirements. Proof MRM has completely changed the implementation game."
Proof MRM changes the equation. It is a DIY solution that installs into your existing Salesforce, eliminating costly installations and implementations. IWB implemented Proof in less than one month with no consulting fees. It was quite easy and well explained, said IWB Marketing digital enabler leader Marina rieger, whose team led the implementation and was responsible for configuring the campaign hierarchies, workflows, and reporting"
"Proof's partnership with Salesforce was key. IWB users didn't have to learn a new system and could put their existing Salesforce knowledge and skills to use. This minimized our training and roll-out costs."
"Proof MRM became a single point of collaboration for all team members across multiple functions. Prior to implementing Proof MRM, the IWB team was often unsure whether a spreadsheet was the current version of a campaign plan. We spent too much time chasing down information and trying to stay current rather than focusing on the critical components of executing a world-class campaign."
"Transparency is built in for all users involved in the planning, budgeting, or scheduling process. Because the MRM data is stored in Salesforce, it's available to all our users wherever they are 24 x 7: in the office, on the road, and at home"
"IWB users were already familiar with Salesforce's interface, so adopting Proof MRM was fast and easy. Team members can work in one environment and don't have to jump from application to application to get their job done. We work seamlessly in Proof and Salesforce at the same time."
"IWB management is happy because they have much better visibility into Marketing, our plans, and our impact on the business. As a result, IWB has expanded our Proof MRM subscription by 6X in the past year to include a significant number of additional seats for company management, finance, sales, and project management. Planning has dramatically improved. We are making better financial decisions because the data and the impact of Marketing investments are at our fingertips."
"Operations have been streamlined, and our access to data is vastly improved. Proof MRM provides integrated data management that enables IWB Marketing to maximize the value of the data we need to manage the entire go-to-market commitment. Our old spreadsheet system, which was neither transparent nor easy to manage, is thankfully a distant memory."
What would you tell
someone who was
considering Proof MRM?
"Proof MRM is the most modern option, and the integrated Marketing Mix Modeling analytics take the Proof solution well beyond any other MRM tool on the market. In short, the integrated planning, collaboration, financial transparency, and marketing performance analytics makes the IWB Marketing a lot more effective, and our credibility with our business leaders is the best it has ever been."
Real time view of all Campaign Planning, Customer Journey Touch Points & Marketing Activities
Proof MRM on Salesforce™ provides an intuitive hierarchical structure with a Parent / Child relationship when it comes to Marketing Plans, Journey's and associated Marketing Activities, supporting up to five levels within this hierarchy.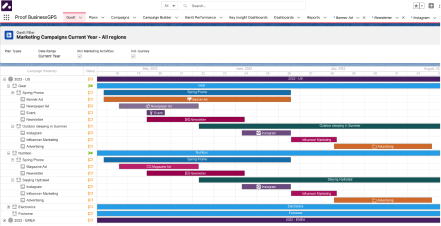 Workflow and Collaboration
Proof MRM on Salesforce™ offers intuitive and real-time collaboration from right within the Salesforce platform interface through an integration with Quip. Being built natively on the Salesforce lightning platform allows the usage of standard Salesforce functionality like tasks to manage your workflow.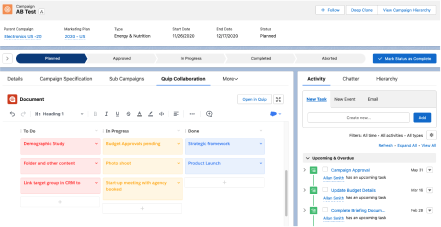 Budget and Asset Approvals
Track and record progress on budget and asset approvals and compare budgeted costs vs. actuals.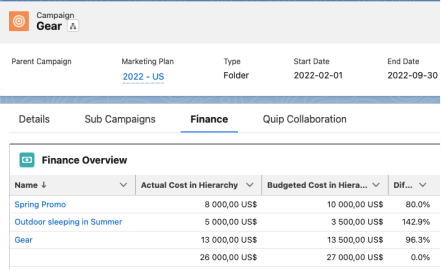 Reporting and Visibility
Leverage Salesforce reporting and Kanban view to report on any data field, including custom fields, and visualize campaign progress via the standard Salesforce Kanban view.