The only MRM native on Salesforce can save you buckets of money
Proof MRM on Salesforce™

Aprimo

Allocadia

Adobe
Affordability

$49 per seat per month, flat price

$3,360 per seat, annual only

$2,940 per seat, annual only

$2,625 per seat, annual only
Contract flexibility

Monthly

Annual only

Annual only

Annual only
Time to implement

60 days*

9-14 months*

7-10 months*

8-12 months*
Available in Salesforce AppExchange
Automated data synch with all Salesforce clouds
Modernized data management
Modernized campaign planning and budgeting
Workflow design and delivery
Automated Marketing Mix Modeling analytics
Significant customer validation
Streamlined purchase and contracting
* Based on industry analyst and customer feedback
** Coming later in 2022
Real time view of all Campaign Planning, Customer Journey Touch Points & Marketing Activities
Proof MRM on Salesforce™ provides an intuitive hierarchical structure with a Parent / Child relationship when it comes to Marketing Plans, Journey's and associated Marketing Activities, supporting up to five levels within this hierarchy.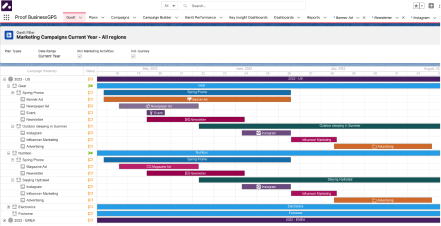 Workflow and Collaboration
Proof MRM on Salesforce™ offers intuitive and real-time collaboration from right within the Salesforce platform interface through an integration with Quip. Being built natively on the Salesforce lightning platform allows the usage of standard Salesforce functionality like tasks to manage your workflow.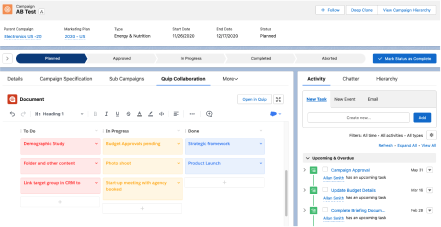 Budget and Asset Approvals
Track and record progress on budget and asset approvals and compare budgeted costs vs. actuals.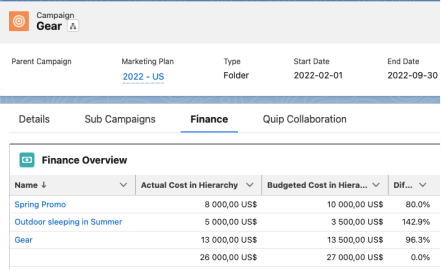 Reporting and Visibility
Leverage Salesforce reporting and Kanban view to report on any data field, including custom fields, and visualize campaign progress via the standard Salesforce Kanban view.