Chris Walker on the Future of Successful Marketing
In the next episode of our Accelerating Value podcast series, we spoke to Chris Walker, CEO at Refine Labs. Chris spoke to us about why most people have marketing all wrong, and what the role of a marketer should be today.
In this episode, we look at peer-to-peer learning among CEO and CFOs, why creating delight for customers is a better but harder ROI, the origin of churn in B2B, and plenty more.

Here are some of the key takeaways from the episode:
One of the things that we see a lot with our customers at Proof when we talk to them about their results in the software is that if you look at what was working in 2019 vs 2020 vs the first half of 2021, is very different from one to the other. What are you seeing right now? And what do you feel like the biggest developments and changes are after 2020?
I'm seeing a divergence of companies that are challenging the way that they've been trained to do things over the past ten years and moving into a new direction vs the ones that are continuing to do the same things over and over.
So the core difference in the way that I see it between that divergence is a mindset, not a tactic. I believe that the companies that are going to win the future are companies that change that perception of marketing and create demand in the market by educating and informing people in places that they already are, and helping them to conduct their entire buying process on their own, as opposed to trying to collect contact information to do sales.
One of the things that we see a lot is that a big difference between B2C and B2B is that the buyer in B2B is dealing with a much higher cost and a much higher risk level than most B2C purchases. And so the value of trust and confidence for those two ideas is really significant at the bottom of the funnel, much more so than at the top. And the deal acceleration, which is all due diligence and risk negation on the part of the customer, is really key as a marketer. Do you see that in the same way?
The core difference that I see relative to marketers is that in e-commerce you have direct transaction data about whether or not your marketing was successful, and in B2B you have leads, and that is the core difference.
In e-commerce, you spend the money and it's very clear whether or not your campaign was successful and in B2B I think the metrics that are used to define success in general marketing today are very misleading.
Read our guide on
to understand the value of measurable ROI.
I agree that the time lag issue is arguably the main issue, and because, if you don't have a computed idea of what that is, you'll never find the value out there in the future.
It's the issue and it's the opportunity. What companies will typically do is they'll put together a spreadsheet and run their lead gen model and they'll put together conversion calculations that are not correct, that are overinflated that don't actually play out in real life.
They will hit that cost per lead target and never look at the funnel. That's the thing that hurts in terms of scaling a company, because, with the incorrect assumptions, you actually spend a lot of money to hit the lead and you don't see the target fall down. I believe that's the core issue.
What do you feel like the average CEO should be doing differently with regards to their marketing team?
I think that the average CEO and CFO of an enterprise SaaS company should go and spend time with the CFO and the CEO of an enterprise SaaS company that does marketing really well and understand the differences.
I think the general lack of education around how much marketing has changed over the past fifteen or twenty years and how much it influences go-to-market strategy are things a CEO and a CFO really need to understand.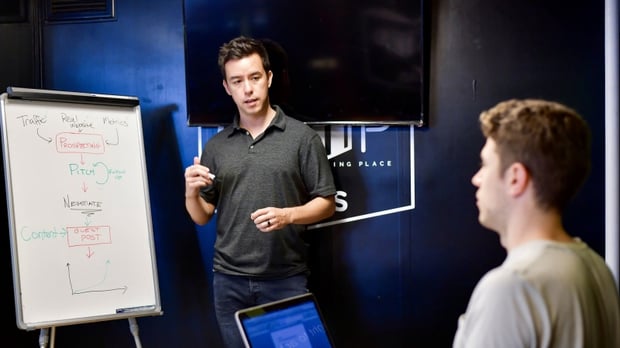 You're thoroughly disrupting the agency scene in different ways. Where do you see the agency world in the future? What will be the role of agencies going forward?
At the moment I think the agency model has places where it's broken, and it starts at misaligned interests. There are very few agencies that I've ever encountered that spend time inside of a company's CRM and are accountable to actual results. They either work on deliverables they charge by time, or they pump out a bunch of leads and report on conversions in Google search and never take accountability to anything further.
The next thing that I think is ripe for disruption is that agencies typically build around a specific service and they never adapt. The company has built a model on its focus on becoming more profitable for themselves, not innovating for their customers.
And then agencies are basically just told what to do based on what they execute across a hundred other companies like yours, they don't innovate.
A lot of my own key learnings in the last ten years of my career show that churn is the enemy. In so many ways it just hammers up your income. It really impairs the sustainability of your business
My belief is that the number one cause of churn is misaligned sales rep incentives or a lack of a well-defined ICP. The things that actually happen pre-customer are the number one factors of churn.
When there's a gap between what the customer was promised by marketing in sales and what they actually got in terms of their overall experience - the bigger that gap is the more churn there is. If you're overpromising you're going to get churn.
Word of mouth drives most buying decisions inside of B2B today. You just can't attribute it. That's how buying decisions are being driven and the way that you create more word of mouth in the market, is you deliver an incredible experience and product and outcome for your customer. You create a lot of good information and content that people want to share which helps people talk about you and gives your customers more opportunities to recommend you.
Wrapping Up
Chris Walker is a true innovator in the marketing space, with a strong understanding of how marketing today should be driving value. Listen to the full episode if you want to learn more expert insights from this inspiring conversation.
The Accelerating Value podcast series focuses on how we see, create, and plan value. Every week we talk to new guests, who are leaders across various disciplines. We understand their definition of value and showcase their expert insights to help you in your own quest to create value.
Want to experience the fastest route to value for your business?
with us today to see how Proof can help you maximize value and growth.