Proof Analytics Launches New Partner Acceleration Program
Today, Proof Analytics is announcing the launch of Proof Partner Acceleration Program, a program designed to empower Digital Performance Agencies to respond to increased customer demand for marketing optimization services.
What's in it for an agency?
The Proof Partner Acceleration Program gives high-performance agencies extraordinary leverage with their clients, providing automated causal, predictive and prescriptive analytics to accelerate client value and establish the short, medium, and long-horizon ROI.
It's fast, highly scalable, cost-effective, and easily incorporated into decision-making. In addition, certified agencies can leverage Proof's ecosystem of Business- and Data partnerships, including automated data ingestion capabilities delivered by Supermetrics, access to top-class Mettle Capital brand reputation and ESG data covering the Global 2000, and the tools to optimize marketing engagements through Proof's partnership with Salesforce.
What is Proof BusinessGPS™ ?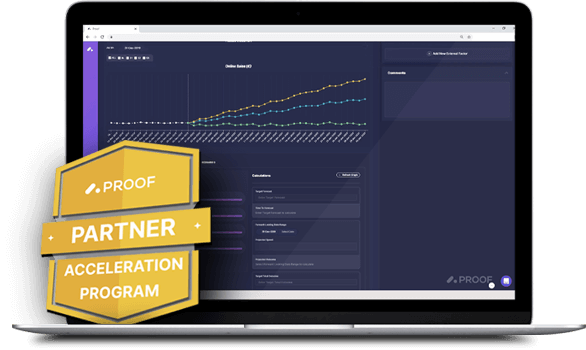 Proof BusinessGPS™ is the first marketing optimization platform that delivers simplified marketing planning and budgeting capabilities combined with streamlined campaign building tools and real-time business insights as well as the ability to optimize the route to increased marketing value with advanced causal, predictive and prescriptive analytics.
"Proof integrated Data Automation and Automated Regression Analytics to answer the most important questions for business leaders and marketers. Proof is delivering Affordability, Scale, Accuracy and Ease-of-Understanding for both analysts and business teams. We see Proof as the "Missing Piece" to deliver true closed-loop marketing", says Leonardo Carbonara, Sr Director of Product Management, Salesforce. Read more here.
Proof Partner Acceleration Program in a Nutshell
Proof's Partner Acceleration Program consists of four components; certifying and training agency staff members on Proof BusinessGPS™, onboarding the agency to the service, enabling agencies to sell the service and building of a joint go-to-market motion.
The demand for Digital Performance Agencies has never been more urgent", says Rasmus Almqvist, Global Alliance Lead at Proof Analytics.
For more details, click here.
How to sign up
The most straightforward way to get in touch with Proof and book a quick meeting with us, is through our website. In the meeting, we will demonstrate the solution and have a confidential conversation about how best to help you succeed with Proof.
Click here to book a meeting to discuss how to become an ecosystem partner through the Proof Partner Acceleration Program
About Proof
Proof BusinessGPS™ is the first marketing optimization platform that delivers automated analytics and visualizations, combined with actionable and real-time insights, enabling customers to transform their entire marketing life-cycle, improve TTV (Time to Value) and maximize ROI (Return on Investment). For more information about Proof, click here.